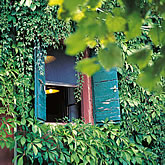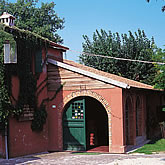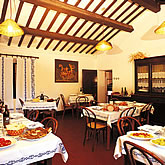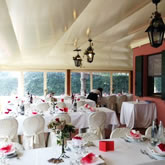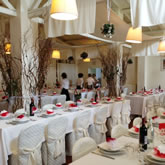 Restaurants
Hostaria Ro' e Buni'
TThis was the first restaurant to open within Tenuta Amalia. It was originally a 16th-century mill, with the millstones still visible today in the restaurant, and referred to in literature by Leone X.

Why R˛ and Buný? They are the two oxen employed side by side in the plowing of the fields: R˛, red, of barbaric origins, on the left and Buný, italic, patient and sturdy on the right.

The menu includes a variety of cured meats, salads and pastas such as: cappelletti, tagliatelle, passatelli, strozzapreti, gnocchi and ravioli. Also, a selection of grilled meats, fegatini (a traditional liver dish), various cheeses including the traditional "squarcquerone", desserts and seasonal fruit. Naturally, all are accompanied by the great wines of Tenuta della Garisenda: Trebbiano, Sangiovese, and Albana.
Hostaria ro' e buni'
Via Molino Bianco, 697 - Villa Verucchio (Rimini) Italy
Tel. +39 0541 678484
Mobile +39 347 7372207
Open all days for lunch and dinner
Closed on Mondays